A Comprehensive Look at Everyone Who Made 'DAMN.'
Inside Kendrick Lamar's latest opus.
It's been one week since Kendrick Lamar shook up the rap game with his fourth studio album DAMN.–and there may be more music on the way. But while we wait to see what Kendrick's comments in Compton meant, let's take a minute to really appreciate everything, and everyone, that went into making DAMN. such an accomplishment, both artistically and commercially. Here, we are proud to present a look at every single person involved with DAMN. Everyone is accounted for here–producers, mixers, additional voices and even the A&Rs. Scroll down to see what making a Kendrick Lamar album entails.
THE STAR
Kendrick Lamar
The most critically-acclaimed MC of his generation, 29-year-old Kendrick Lamar Duckworth was born and raised in Compton, California. After releasing a mixtape in 2004 under the name K-Dot, Lamar (then still a teenager) linked up with Anthony "Top Dog" Tiffith and signed to Tiffith's fledgling label, Top Dawg Entertainment (TDE). A series of independent releases followed, including two more mixtapes (again as K-Dot) and a few guest verses. In 2009, he released The Kendrick Lamar EP, under his given first and middle name. Lamar's first commercially available mixtape, Overly Dedicated, arrived the next year, and 2011 brought his breakthrough full-length debut, Section.80, featuring the J.Cole-produced lead single, "HiiPoWeR."
His Aftermath/Interscope debut, good kid, m.A.A.d city, followed in 2012. It was received as one of contemporary hip hop's first classics. His ambitious, Grammy Award-winning 2015 follow-up, To Pimp a Butterfly, incorporated old school funk, jazz, spoken word and decades of African-American music, while addressing racial inequality in America head on. A loose collection of apparent outtakes entitled untitled unmastered. arrived in 2016. He released his third album through TDE/Aftermath/Interscope, DAMN., on April 14, 2017.
THE FEATURES
U2
Contribution: U2 helped write "XXX." and Bono sang the chorus.
U2's appearance on DAMN.'s tracklist was as surprising as their unexpected appearance in our iTunes library back in 2014. Jokes aside, the political themes of "XXX" echo what U2 wrote songs about about back in the 1980s and early '90s.
U2 is one of the most famous rock bands in the world with 13 studio albums, 22 Grammys and a place in the Rock & Roll Hall of Fame status. The Irish rock band isn't known for working with hip hop artists, but guitartist The Edge did take a stab at rapping on "Numb" off of their 1993 album Zooropa.
Rihanna
Contribution: Featured on "LOYALTY."
A global superstar with an iconic voice, Rihanna is an eight-time Grammy award winning artist who has sold more than 230 million records worldwide. She released her eighth studio album, Anti, last year.
In an interview with The Fader, Terrace Martin of TDE said that when Lamar heard just the drums on "LOYALTY." he immediately said he was going to get Rihanna on the track.
Zacari
Contribution: Featured on "LOVE."
Within one year, California singer Zacari went from SoundCloud artist to having his name printed on the back of DAMN.
Zacari's smooth vocals on the hook of "LOVE." marks the third TDE track that Zacari's voice has blessed. He was featured along with K-Dot on "Wat's Wrong" off of Isaiah Rashad's The Sun's Tirade and was also on "RAW (backwards)" off of Ab-Soul's latest project. Zacari is set to release his own solo project soon.
https://www.instagram.com/p/BPrE7sFlV19/?taken-by=zacarip&hl=en
THE PRODUCERS 
Dr. Dre
Contribution: Executive Producer
A name you already know, Dr. Dre is the legendary producer, rapper and entrepreneur from Compton, California. A member of the pioneering rap group N.W.A, Dr. Dre is known as an originator of West Coast rap and G-Funk. As an artist, he has released three critically acclaimed studio albums. As an producer, his name is on hundreds of tracks that date back to the 1980s.
Dr.Dre is also the owner and founder of Aftermath Entertainment, the hip-hop record label that he started after leaving Death Row Records in 1996. Through Aftermath, Dre brought the world Eminem, 50 Cent and the Game. In 2012, he secured hip hop's next major superstar when Top Dawg Entertainment signed a joint venture deal with Aftermath and Interscope. The terms of the deal were that Kendrick's albums would be jointly-released with the three labels. (Other releases from members of Black Hippy would be released under TDE and Interscope.)
Dr. Dre was in the mix (literally) on GKMC with mixing credits on "Swimming Pools," "Bitch Don't Kill My Vibe," "Poetic Justice," "Compton" (which he appeared on) and more. Dre also appeared on TPAB (as a backing vocalist on "Weasley Theory") and Dre featured K-Dot on his own 2015 project, Compton.
Sounwave
Contributions: Sole producer for "FEEL." Main producer for "YAH." and "ELEMENT.," Co-Producer for "LOYALTY.," "LUST.," "LOVE.," "XXX.," and "GOD." Sounwave is also credited as a TDE A&R
A member of TDE's in-house production team, Digi+Phonics, Sounwave is behind many of Lamar's and Top Dawg's best songs, including "Bitch Don't Kill my Vibe," and "A.D.H.D."
In a 2012 interview with The Fader, Sounwave said he started making his first beats on a Korg pad drum machine and then moved onto a Playstation with MTV Music Generator, which means Sounwave's first beat to make it on the radio was created in a video game.
In 2005, Sounwave linked up with Top Dawg. Recently, his Twitter account has been followed closely since many Lamar fans have used his Tweets as evidence to support a conspiracy theory about a supposed second new album on the way.
https://www.instagram.com/p/xtI5W0BbIx/?taken-by=sounwavetde&hl=en
Bekon
Contributions: Main producer for "BLOOD.," "ELEMENT.," and "PRIDE." Co-producer on "YAH.," "XXX.," "FEAR.," "GOD." and "DUCKWORTH.." Also provided additional vocals on these tracks.
Bekon was born Daniel Tannenbaum, a producer formerly known as Danny Keyz that's done work with Fabolous, Eminem and Dr. Dre.
James Blake
Contribution: Producer on "ELEMENT."
One of the bigger names in the production liner notes of DAMN. outside of the immediate Aftermath/TDE fam is the critically acclaimed UK singer-songwriter James Blake. Blake's second studio album, Overgrown, won the 2013 Mercury Prize.
Lamar is not the first rapper that Blake has worked with. Recently Blake handled background vocals for Travis Scott's song "the ends" off of Birds in The Trap Sing McKnight. He was also credited for three tracks on Frank Ocean's 2016 visual album Endless and teamed up with Beyonce for "Forward" on Lemonade.
Tae Beast
Contribution: Co-Producer on "ELEMENT."
Tae Beast is another member of TDE's in-house production team Digi+Phonics. Beast is behind classic Lamer songs like "Hood Politics," "Ronald Reagan Era" and "The Heart Pt. 3."
https://www.instagram.com/p/BOS58PyF8qK/?taken-by=taebeast&hl=en
Steve Lacy
Contribution: Main Producer and background vocalist for "PRIDE."
Producer, singer and guitarist, Steve Lacy is the 18-year-old guitarist in the Internet. All his work on "PRIDE." was done on his iPhone. He released his debut solo project, Steve Lacy's Demo, in February.
Mike WiLL Made-It
Contributions: Sole Producer for "DNA." and "HUMBLE." Co-producer for "XXX."
The hottest producer outside of the camp to work on DAMN., Mike WiLL Made-It is known for making some of the most popular rap songs in recent years. The Atlanta hitmaker came up under Gucci Mane (who gave him his name) and has produced hits for everyone from Gucci to GOOD Music, Juicy J and Jay Z. He executive produced Future's Honest and Miley's Bangerz, and through his label Ear Drummers (under Interscope), he's successfully launched the career of Mississippi duo Rae Sremmurd, who topped the charts early this year with the runaway Mike Will-produced hit, "Black Beatles," featuring Gucci Mane.
DJ Dahi
Contributions: Main Producer of "LUST." and "LOYALTY." Co-producer on "YAH.," "XXX." and "GOD."  
Los Angeles producer DJ Dahi was behind the beat for "Money Trees" off good kid, m.A.A.d city. He's also produced other big rap songs, such as Drake's hit single "Worst Behavior," Big Sean's "I Don't Fuck With You" and ScHoolboy Q's "Hell of a Night," as well as collaborating with Vince Staples.
9th Wonder
Contribution: Main Producer for "DUCKWORTH."
A veteran of the group Little Brother and producer whose long list of credtis include the classics "Threat" by Jay Z and "Honey" by Erykah Badu, 9th Wonder crafted the incredible beat for "DUCKWORTH." 9th Wonder tweeted that the three beats that make up "DUCKWORTH." were previously picked by three different rappers but were never used. Lamar took all three and fused it into one song.
The 3 beats for "Duckworth" that Dot picked was previously picked by 3 other rappers, neither of them used it. Dot made one jam outta them.

— 9th Wonder (@9thwonder) April 15, 2017
9th Wonder also previously appeared on the MASS APPEAL series Rhythm Roulette.
The Alchemist
Contribution: Producer for "FEAR."
A legendary producer from the West Coast, Alchemist has worked with everyone from Mobb Deep to Earl Sweatshirt. He is also well known for being Action Bronson's trusted DJ and travel companion.
Aside from "FEAR.," Alchemist also helped produce pre-DAMN. track "The Heart Part 4."
BADBADNOTGOOD
Contribution: Co-Producer for "LUST."
A jazz group hailing from Ontario that is known for their interpretations of hip hop tracks, BADBADNOTGOOD exploded in popularity after sharing a live jam session with Tyler, the Creator on YouTube. In 2015 they released Sour Soul, a collaborative album with Ghostface Killah. They released their fourth studio album last year. Snoop Dogg brought some extra attention to the group earlier this year when he rapped over their track "Lavender" and made a video for it which got President Trump's attention.
https://www.instagram.com/p/BJfAr_FATYE/?taken-by=badbadnotgood&hl=en%20%20
Ricci Riera
Contributions: Main Producer for "GOD." and co-producer for "ELEMENT."
Ricci Riera is a young, but extremely talented producer. Riera also has credits on Drake's VIEWS and Travis Scott's Birds in The Trap Sing McKnight. He is also the one behind the banging Playboi Carti and A$AP Rocky track "New Choppa," from Carti's debut album.
Terrace Martin
Contribution: Co-Producer for "LOYALTY."
A multi-talented producer, Terrace Martin was instrumental in the development of To Pimp a Butterfly and truly shaped the Los Angeles jazz represented on the album. Martin was the producer, plus played the alto sax and keys, on tracks like "These Walls" and "For Free."
Martin also has a deep history with TDE and has production credits on all of Lamar's studio albums since Section 80. He contributed to YG and ScHoolboy Q's albums last year. His 2016 album, Velvet Portraits, was nominated for Best R&B album at the Grammys last year.
Martin was recently profiled by MASS APPEAL.
Teddy Walton
Contribution: Main Producer for "LOVE."
Another young producer, the 23-year-old Teddy Walton already has some solid hits on his résumé, including "Electric Body" off of A$AP Rocky's last project At.Long.Last.A$AP. Walton also produced GoldLink's banging single "Crew" off his latest album At What Cost.
Greg Kurstin
Contribution: Co-Producer for "LOVE."
Greg Kurstin is another big name in music today, as the writer and producer of Adele's Grammy award-winning song "Hello" and many other hits for pop acts like Sia and Kelly Clarkson. Though Lamar is one of the few rappers Kurstin has worked with, his reputation as a songwriter and producer is of the highest standard.
Cardo
Contribution: Co-Producer on "GOD."
Now working with Fool's Gold, and previously part of Taylor Gang, Cardo is another producer that is known for making some of the most popular songs in hip hop today. He has production credits on some of the best songs of 2016, like ScHoolboy Q's "That Part" and Travis Scott's "Goosebumps" and "Through the Late Night."
Kuk Harrell
Contribution: Rihanna's Vocal Production on "LOYALTY."
Kuk Harrell is Rihanna's trusted vocal producer. He has won five Grammys and has also worked with Beyoncé, Chris Brown, Justin Bieber and more.
https://www.instagram.com/p/BSbmS6LB4Sx/?taken-by=officialkukharrell&hl=en
THE PLAYERS
Thundercat
Contribution: Bass on "FEEL."
Thundercat is a multi-talented musician who has worked with artists such as Flying Lotus, Mac Miller, Erykah Badu and more. He released his third studio album, Drunk, in February. On it, Lamar laid down some bars for the track "Walk on By."
On To Pimp a Butterfly, Thundercat was credited as a bass player, backing vocalist and co-producer on multiple tracks.
It's hard to imagine what some of Lamar's best songs would sound like without Thundercat. On "Wesley's Theory," Thundercat's signature, envelope-filtered, bassline carries the entire track "FEEL."
Matt Schaeffer
Contributions: Additional Guitars on "DNA.," "FEEL." and "HUMBLE.." Helped mix "FEEL." and "ELEMENT." Also credited as one of the primary recording engineers.
Although not much is publicly known about the musician who is behind some of the best guitar riffs on DAMN., Schaeffer had a big role on this and many other TDE projects. On DAMN. he is credited as one of the primary recording engineers and is credited as an additional guitarist and mixer on a couple tracks.
On To Pimp a Butterfly, Schaeffer is credited as one of the guitarists on "King Kunta" and as a mix assistant. He was the mixing assistant on ScHoolboy Q's Blank Face album and played the guitar on "Hoover Street" off of 2014's Oxymoron.
Rat Boy
Contribution: Additional Vocals on "LUST."
It looks as if Drake isn't going to be the only American star to tap into the UK's music scene. Rat Boy's 2015 song "Knock Knock" was one of the few samples found on DAMN.  
Rat Boy is performing name of 21-year-old Jordan Cardy from Essex, England. He started releasing music on SoundCloud under the name Rat Boy and in 2015 dropped a five-song project titled The Mixtape. The Mixtape got Rat Boy a record deal with Parlophone at the age of 19. Rat Boy's style is indie rap rock, with clear influences from British acts such as Jamie T, the Arctic Monkeys and the Clash.
In the past two years, Rat Boy has received recognition from UK radio stations and music publications. In 2016, he won the award for Best New Artist at the NME Awards. Last Friday, Rat Boy tweeted out a response Kanar sampling his song.
I'm on the new kendrick album… thats mad one of my favourite artists what a compliment damn.

— RAT BOY (@RATBOY) April 14, 2017
Kaytranada
Contribution: Additional Vocals on "LUST."
Kaytranada's contribution to DAMN. is small, but the Canadian electronic artist is currently one of the most respected DJs in music today.
Starting in 2010 and formerly known as Kaytradamus, Kaytranada has released tons of EPs and mixtapes over the years, but only released his first album, 99.9%, last year. 99.9% was well received by critics and earned spots on numerous Best Music of The Year lists. The album won Canada's Juno Award for Electronic Album of the Year.
Although an electronic artist, Kaytranada has earned respect among hip hop heads for his beats. He teamed up with artists like Anderson.Paak for "Glowed Up" and Freddie Gibbs for "My Dope House." Kaytranada has even teamed up with more underground artists, like New York rapper Wiki on the track "3 Stories" and Atlanta's Rome Fortune for "Dance."
Chelsea Blythe
Contribution: Additional Vocals on "FEEL."
In the intro of "Feel," we hear Kendrick say "Ain't nobody praying for me" with a softer female voice repeating the same line. The woman behind this voice is Columbia A&R Chelsea Blythe, who shared this Instagram post shortly after the album's release.
https://www.instagram.com/p/BS4FGC_gWOE/?taken-by=misschelseashay&hl=en
In an interview with HHB Media, Blythe said that she has worked with Lamar, ScHoolboy Q, Rae Sremmurd, Mike WiLL Made-It, Machine Gun Kelly and French Montana. When asked if talent or social media makes an artist today, Blythe said that she has worked with artists who have huge followings and artists that have never even played a show. "I mostly look for the message in people's music," she said.
Kid Capri
Contribution: Additional vocals on "ELEMENT.," "LOVE.," "XXX.," and "DUCKWORTH."
Kid Capri is one of hip hop's most recognizable and important DJs. Coming from the Bronx, Capri has produced songs for iconic East Coast MCs such as Jay Z, Heavy D, KRS-One and Big L.
He is also well known as the DJ on seven seasons of Russell Simmons' television series Def Comedy Jam.
Recently, MASS APPEAL spoke with Capri about his role on DAMN.
https://www.instagram.com/p/BSR131HjEIC/?taken-by=kidcapri101&hl=en
Anna Wise
Contribution: Background vocals on "PRIDE."
Anna Wise is known as Lamar's go-to singer. She has worked with him on every project since 2012's good kid, m.A.A.d city. In 2015, she won a Grammy with Kendrick for Best Rap/Sung Collaboration for "These Walls" off To Pimp a Butterfly. Lamar began working with Wise after hearing her music on YouTube when she was with her band Sonnymoon.
The Berklee graduate has worked with other artists and has her own solo career. She released her second studio album, The Feminine: Act II, last February.  
Carl Duckworth
Contribution: Additional Vocals on "FEAR."
The voice behind the spiritual voicemail message that opens "FEAR." is Lamar's cousin, Carl Duckworth.
Charles Edward Sydney Isom Jr.
Contribution: Additional Vocals on "FEAR."
"FEAR." is Charles Edward Sydney Isom Jr.'s first and only credit. He is featured on the bridge.
Kamasi Washington
Contribution: Strings on "LUST."
The saxophonist and bandleader who has brought global attention to L.A.'s cosmic jazz scene previously played tenor sax on "u" and is also credited for arranging the strings on To Pimp A Butterfly.
Washington's 2015 debut studio album, The Epic, received widespread acclaim and was considered by many as one the best albums of 2015.
Washington went on his first national tour with Snoop Dogg and has worked with artists like Lauryn Hill, Flying Lotus and Run The Jewels.
https://www.instagram.com/p/BTAThQmjei6/?taken-by=kamasiwashington&hl=en
THE LABEL 
Anthony "Top Dawg" Tiffith
Contribution: Executive Producer
Anthony "Top Dawg" Tiffith has been a key guiding force in Kendrick Lamar's life and career. After starting Top Dawg Entertainment in 2004, it was Tiffith who put his faith in a 15 year-old Lamar and signed the teenager after hearing his first mixtape.
In a 2012 interview with NPR, Tiffith explained how he built TDE from the ground up and secured a joint venture with Interscope Records. As touched upon on DAMN.''s "DUCKWORTH.," Tiffith stepped away from gang life to pursue the legal hustle known as the music industry. Tiffith told NPR that he once locked the members of Black Hippy in a room together so "they could do nothing but bond."
Since releasing its first studio albums in 2011, TDE has cut platinum records, won Grammys and continues to be a dominant force in hip hop today.
Dave "Miyatola" Free
Contribution: Associate Producer
Like Anthony "Top Dawg" Tiffith, Dave Free is another important figure in TDE who has been instrumental in Lamar's success.
In an 2016 article with Forbes, Free explained his relationship with the MC. Free met Lamar in high school and was the one who got K-Dot's mixtape into Anthony Tiffith's hands—after graduating, Free worked as a computer technician and one day got a call to fix Tiffith's computer. While doing the work, Free played the mixtape, which caught Tiffith's attention.
Since 2007, Free has served as the President of TDE. In this role, Free manages most of TDE's roster, but he has also worked on the musical side, helping produce some tracks with the Digi+Phonics crew.
Roberto "retOne" Reyes
Contribution: General Manager
Reyes, who helps manage TDE, is perhaps best known outside of their circle for debunking rumors of a 2014 Lamar album called United States of A.L.A.R.M.
Moosa
Contribution: TDE Management
The "Heir to the Throne," in addition to being ScHoolboy Q's longtime tour manager, a video director (he co-directed Q's "Hoover Street") and manager of up and coming prospect Kembe X (thought to be a future TDE recruit), Moosa's also Anthony "Top Dawg" Tiffith's son.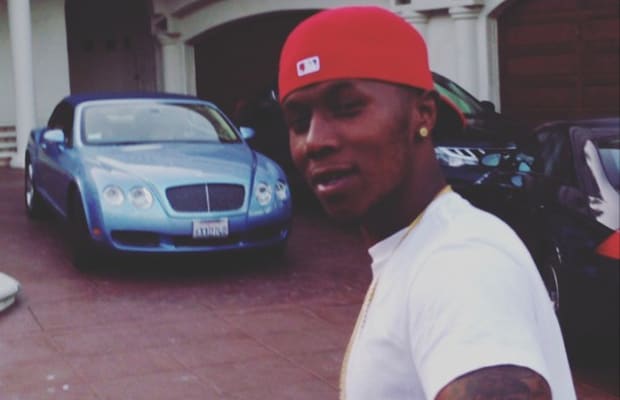 Punch
Contribution: TDE Management
As the co-president of TDE, Punch doesn't just manage the artists on TDE, he's also the only one of the higher-ups at the company known to rock the mic.
Punch's most recent track with Kendrick was on untitled, unmastered. He appeared on the second verse of "untitled 05 | 09.21.2014." In the past, Punch was featured on early TDE albums such as Ab-Soul's Long Term 2 and Schoolboy Q's Setbacks.
In March of 2016, Punch told Billboard that he still writes songs and may release a full–length project soon. Four months ago, he released the track "Gold" on Soundcloud.
2Teez
Contribution: TDE Management
Tommy Tom, aka 2Teez, gets a management credit here, but he's also known for his role as TDE's Director of Security. As Lamar rhymed on "untitled 02 | 06.23.2014" from untitled, unmastered, "Fuck you niggas, level two I'm not done/ 2Teez told me that I am the one"
Brock Korsan
Contribution: TDE A&R
Twitter | Instagram | LinkedIn
Brock Korson is a well-rounded hustler who works behind the scenes on rap projects and in the streetwear industry. Korson has A&R credits with Lamar, Wale and Logic, along with helping compose songs for Lamar, Nicki Minaj and Ty Dolla $ign. Korsan is also the marketing director for the skateboard brand Diamond Supply Co.
Read his 2012 interview with Mass Appeal.
Brandon "Big B" Tiffith
Contribution: Business Accounting
Brandon "Big B" Tiffith is another son of Anthony Tiffith. He also has business accounting credits on Schoolboy Q's Blank Face. He is currently pursuing a master's degree at New York University.
Saj Motley
Contribution: Business Accounting
Along with Tiffith, Saj Motley is also credited for business accounting.
John Janick and Steve Berman
Contribution: Credited as "Top's Homies"
John Janick is the chairman and CEO of Interscope/Geffen/A&M Records and Steve Berman is the vice chairman. Janick has been the chairman since 2014. His first artist meeting at Interscope was actually with Lamar and TDE for good kid, m.A.A.D city. In his first year as the chief of Interscope, Janick signed Rae Sremmurd and Tame Impala.
Steve Berman has been at Interscope for 25 years and started as a marketing and sales guru before becoming the president of that department in 2005. He took on his current position in 2010. However, Berman is probably most known by rap fans for his recurring skits on Eminem albums.
Manny Smith
Contribution: Interscope A&R
Smith started his career at Interscope in 2003 as an intern and in March became the senior vice president of A&R at Interscope. Smith scored big when he signed Kendrick Lamar through a joint venture with Top Dawg Entertainment and Aftermath Records. Smith also has A&R credits on albums by 50 Cent, Mobb Deep, Soulja Boy, Rae Sremmurd and more.   
Gabrielle Graham
Contribution: A&R Coordinator
An Interscope urban A&R administrative assistant, Graham also has A&R credits on Rae Sremmurd's latest project, SremmLife 2.
Alicia Graham
Contribution: A&R Admin
Alicia Graham is the VP of A&R Administration at Interscope and has held this position since 2003. She has A&R credits on albums by Common, Talib Kweli, Mos Def, the Roots and more.
Archie Davis 
Contribution: Marketing
Archie Davis is the Director of Marketing and A&R at Interscope. In addition to his work with Kendrick, he also has credits on albums by Schoolboy Q, Mike WiLL Made-It, Rae Sremmurd and Yelawolf.
Matt LaMotte 
Contribution: Marketing
Matt LaMotte is the Head of Marketing at Interscope.
Kam Sangha
Contribution: Production
Kam Sangha is the Production Director at Interscope.  
Jason Kawejsza, Todd Douglas, Todd Johnsen
Contribution: Business Affairs
Douglas LinkedIn | Johnsen LinkedIn
Jason Kawejsza, Todd Douglas and Todd Johnsen are part of the business affairs department at Interscope.
Ray Alba
Contribution: Publicity
Ray Alba is the Director of Publicity for Interscope Records. He also has credits on albums by Schoolboy Q, Mike WiLL Made-It, Rae Sremmurd, Chief Keef, Yelawolf and more.
Gary Kelly
Contribution: Sales
Twitter | Instagram | LinkedIn
Gary Kelly is the Head of Digital and Revenue at Interscope.
Don Robinson and Jurgen Grubner
Contribution: International Marketing
Robinson LinkedIn | Grubner LinkedIn
Don Robinson and Jurgen Grubner are in charge of international marketing for Interscope.
Ashley Palmer
Contribution: Aftermath Ent. General Manager
Twitter | Instagram | LinkedIn
Ashley Palmer is the general manager at Dr. Dre's Aftermath Entertainment.
https://www.instagram.com/p/BSABk6VBiYc/?taken-by=yomtvtrash
THE CREATIVES
Vlad Sepetov
Contribution: Listed as one of the creative directors behind DAMN.
Sepetov is the graphic designer that is behind the album art of many TDE albums. He designed the iconic cover for To Pimp a Butterfly and also designed Jay Rock's 90059, ScHoolboy Q's Oxymoron and Blank Face, and Ab-Soul's These Days.
And yes, he did have something to say about his cover for K-Dot's latest project.
https://www.instagram.com/p/BQ6mF8eD8wk/?hl=en
Dianne Garcia
Contribution: Styling
Dianne Garcia is the stylist who dresses most of TDE and also designs their merchandise. As seen on the cover of DAMN., Kendrick isn't a rapper known to rock Supreme or Dior. His style is characterized as being simple and effortless.
https://www.instagram.com/p/BHKu0QCBCPz/?taken-by=dianne&hl=en
Garcia is also responsible for one of the best jackets ever worn by a rapper on the Grammy red carpet.
https://www.instagram.com/p/BQd6Mg_BJax/?taken-by=dianne&hl=en
Dave "miyatola" Free and Roberto "retOne" Reyes
Contribution: Photography
The President of TDE, Dave Free also works on the creative side of projects and is part of The Little Homies with Lamar. The Little Homies is the music video direction team that have worked on the videos for "Alright," "Bitch Don't Kill my Vibe," "HUMBLE." and "DNA."
Roberto Reyes is also credited with photography and shares his work on Instagram.
Mark Bridges
Contribution: Video Commissioner
Mark Bridges is the Director of Visual Content for Interscope records and handles visuals for Lamar, Schoolboy Q, Rae Sremmurd and more.
THE ENGINEERS 
Mike Bozzi
Contribution: Mastering engineer at Bernie Grundman
As a mastering engineer, Mike Bozzi is behind one of the most vital processes for finishing any work of recorded music. And clearly he is the one that TDE trusts. Aside from DAMN., Bozzi also mastered good kid, m.A.A.d city and To Pimp a Butterfly. Bozzi has additionally worked with ScHoolboy Q, YG, Snoop Dogg and Post Malone.
Derek "Mixedbyali" Ali
Contribution: Mixed the album
TDE's in-house engineer, Ali first hooked up with the label as a teenager through Dave Free, who was a computer tech at Ali's high school. As Ali told XXL in 2012, Free was handing out Jay Rock CDs and Ali told him that he wanted to get into the business. Free brought him to the TDE studio and, as Ali says, "I came by and I never left."
Head over to Sound on Sound for an in depth article about Ali's mixing process.  
https://www.instagram.com/p/BSu3jJlDgdL/?taken-by=mixedbyali&hl=en
James "The White Black Man" Hunt
Contribution: Recording Engineer along with Matthew Schaeffer.
Another trusted hip hop recording engineer and longtime TDE collaborator, Hunt also has credits on good kid, m.A.A.d city and To Pimp a Butterfly. He has also worked with A$AP Rocky, Chief Keef, YG and Schoolboy Q.
Zeke Mishanec and Brendan Silas Perry 
Contribution: Additional Recording on "Element.," "Duckworth.," "XXX.," and "Love."
Mishanec and Perry also worked together on Travis Scott's Kid Cudi-assisted "Through the Late Night" from Scott's album Birds in the Trap Sing McKnight. (Mishanec was credited as Recording Engineer and Perry as Assistant Engineer on that record.) Mishanec also recorded Swizz Beatz's vocals on Kanye's "All Day," from Life of Pablo. Mishanec received Grammy nominations for his work on Jay Z's Magna Carta Holy Grail. 
Blake Harden
Contribution: Recording Engineer for "LUST." and "DUCKWORTH."
Blake Harden is a recording engineer who has also worked with Travi$ Scott, Tech N9ne and Usher.
THE SAMPLES
"BLOOD."
Sample: Geraldo Rivera Fox News
Geraldo Rivera, who came to fame with a daytime talk show that thrived on shock value in the 1980s and now hosts a show on Fox News, is actually heard in the middle of "DNA." stating on the air, "This is why I say that hip hop has done more damage to young African-Americans than racism in recent years," when discussing Lamar's performance of "Alright" at the BET Awards in 2015.
"LUST."
Sample: Rat Boy, "Knock Knock Knock" 
In a pitched up, childlike tone, the lyrics "Kicked down the door and his Nike Air rattles/ Better rush the fire exit no time for battles" appear at the 1:00 mark and again at 1:52 on "LUST." They're from Rat Boy's track "Knock Knock Knock" off his 2015 mixtape Neighbourhood Watch.
"FEEL."
Samples:
A synth melody featured throughout "FEEL." comes from Nashville artist Fleurie's "Don't Let Me Down." She wrote and produced along with co-producer Cody Clark for her 2016 album Love And War.  

O.C. Smith, "Stormy"
A couple lyrics from O.C. Smith's 1968 soul track "Stormy" from the album For Once in My Life get screwed up, distorted and looped through most of "FEEL."
"LOYALTY."
Sample: Bruno Mars, "24K Magic" 
A pitched up, reversed, chopped and jog-shuttled clip from the intro of Bruno Mars' "24K Magic" appears throughout "LOYALTY." It is the title track from Mars' 2016 album.
"DUCKWORTH."
Samples:
Ted Taylor, "Be Ever Wonderful" 
For 15 seconds, "Be Ever Wonderful" rocks uninterrupted or unaltered save some remastering before being cut off abruptly. Taylor's chopped voice keeps trying to repeat itself unsuccessfully for another minute or so, only the false start the word "just" being discernable, although a guitar lick from the original acts as a percussive element. "Wonderful" appeared on Taylor's 1978 album Keepin' My Head Above Water.
September, "Ostavi Trag" 
A clipped sample of the vocals from "Ostavi Trag" are scattered through the rest of "DUCKWORTH," starting at the 1:43 mark. "Trag" was on the 1978 album Zadnja Avantura.
The Fatback Band – "Let The Drums Speak" 
A screwed up break appears at 2:05 from the intro to "Let the Drums Speak" off the Fatback Band's album Yum Yum.
Hiatus Kaiyote, "Atari" 
Buried behind that break are some nearly indiscernible lyrics from Hiatus Kaiyote's "Atari," which appeared on her 2015 album Choose Your Weapon.
THE PLACES
No Excuses (Interscope Studios)
Contribution: Main Studio
Located in Santa Monica, No Excuses is Interscope's studio where the majority of DAMN. was recorded.
https://www.instagram.com/p/BCB1IThjxTt/?taken-at=399278543
https://www.instagram.com/p/BKLK46JBYem/?taken-at=399278543
Henson Recording Studios
Contribution: Where Strings for "LUST." were recorded  
Located in the Jim Henson Company Lot in Hollywood, Henson Recording Studios was originally built in 1917 by actor Charlie Chaplin. Many historic pieces have been recorded on these grounds that were once owned by A&M Records. Every single member of the Beatles were clients and in 1985, "We Are The World" was filmed and recorded in Studio A. When A&M Records was brought out by UMG in 1999, the Jim Henson Company purchased the the studio and re-opened it in 2000.
https://www.instagram.com/p/BOGSl71jO2f/?taken-at=928038160
Windmark Studios
Contributions: Where Rihanna's vocals for "LOYALTY" and the songs "DUCKWORTH." and "LUST." were recorded.
Located in Santa Monica, Windmark Studios was founded by Flock of Seagulls drummer Michael Marquart. Destiny's Child, Talib Kweli and R.Kelly are just some of many artists who have recorded there.
Jungle City Studios
Contribution: Where Kid Capri's vocals were recorded.
Located in the Chelsea neighborhood of New York City, Jungle City Studios has a long list of clients that includes Jay Z, Kanye West, Nas and more.
THE LAW
Joshua P. Binder Esq.
Contribution: Legal
Joshua B. Binder runs a general entertainment practice and specializes in music law, contract negotiation and intellectual property rights. He also has credits on good kid, m.A.A.d City, To Pimp a Butterfly and Blank Face LP.